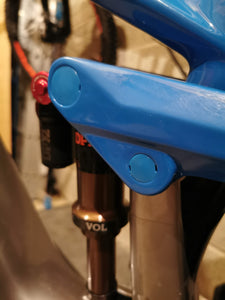 Cube Stereo Hybrid Pivot Plugs
Following multiple requests on social media, we have decided to produce a new product, pivot plugs for the Cube Stereo Hybrid eBikes.
Owners out there feel that the frame pivot bolts look somewhat unfinished, plus the holes for the bolts often gather dirt and water during rides, leading to ingress into the bearings following cleaning. So we created some TPU flexible plastic plugs which seal the holes and create a cleaner look for your Cube eBike.
They're simple to install, simply push fit into the hole, and have recessed notches on them to aid removal with a flat head thin screw driver.
Designed to ensure that there is a consistent seal, these plugs should prevent moisture collecting in the hole as well as dirt.
Keep an eye on our store for these, they will be available in a variety of colours very soon!
---